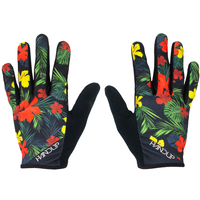 We are stoked to have Handup Gloves now in store and ready to buy at Off Road Bikes Online (ORBO) – we are ready to ship their awesome and high quality gloves across Australia. Handup started in 2014, as a side-gig by a husband and wife with 4 boxes of their own designed gloves in their spare bedroom. Their idea was to offer a unique product that hadn't been seen in the cycling industry with fun designed gloves and sayings across the palms, while using this product to connect people and build a community.

The goal of their minimalist cycling gloves was to create a community of people that love cycling at it's core – similar goals to us here at Off Road Bikes Online! People that desire to make it a better, more welcoming place at ALL times. The conduit from which that community formed was the simple, yet bold mountain bike glove that we've all come to love.
And when it comes to quality - they are there, dependable, whenever you need them. That's why we have over 25 professional athletes in them all year round!
Check out the full range of gloves we have available here, and remember – always go full send!