We are passionate riders here at Off Road Bikes Online (ORBO), and we wanted to share some of the stories from our customers and friends. Nik was the one of the first Revel Rascal owners in Western Australia, and absolutely loves getting out on the bike - so we had to get to know her a little better.
Get in touch with us now if you have any questions, or hit up the store to get your hands on one!
About myself :
My name is Nik, I've been mountain biking for 25 years. So yes I started on a chromoly frame with cantilever brakes and no suspension. Then we thought v brakes and rockshox Judys were the ducks nuts !
Type of riding:
Mostly trail and long day/ multi day events. Plus gravel. Mates/ significant others do anything from trail to enduro. I do long hours at work so riding has to fit in with that.
I live in Perth WA where we have had a lot of trail builders do some fantastic work. Dwellingup and Margaret River are also fab. There is still no pea gravel specific tyre though!
I have been lucky enough to ride in WA, Vic, NSW, Tassie (pre-Derby...can't wait to go) New Zealand, UK, Oregon USA, Idaho USA and Spain. A group of mates we meant to be doing the Sani 2 Sea in South Africa but COVID struck and we still can't get there this year...one day.
I feel very privileged for ride where I have, but the one most consistent thing...is that grin you see on beginner to experienced...we all know that feeling.
Why Revel :
I've had VPP and DW link bikes. Great...but the CBF looked even better! The Rascal just reviewed so so well and ticked all the boxes. I can't afford to crash injury wise these days so a plush /climb well bike was on the menu. And it felt great. Custom build with SRAM GX eagle, Selva fork and Praxis Carbon rims...until someone stole it.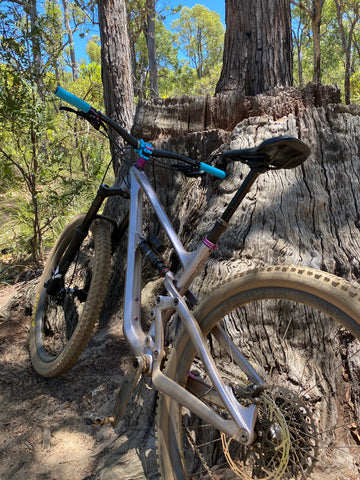 I reviewed all the riding I hope to do in the next few years...we just don't know what's happening with Covid and although trail bikes are so much fun a cross country type bike made more sense...enter the ORBO guys to help me get a Ranger (which reviews as a super fun bike) on the way (thanks guys!). I'm so grateful I can rebuild.
Rides
Seven in WA (gravel or mtb 3000m 125k)...but the training is way behind!
Hopefully Alice Springs or Blue Dragon in 2022. Hoping Tassie and NZ sometime!
Happy trails, may the MTB grin be with you .
Thanks for the info Nik, we can't wait to see your Ranger! Get in touch with us if you have any questions, or hit up the store to get your hands on one!