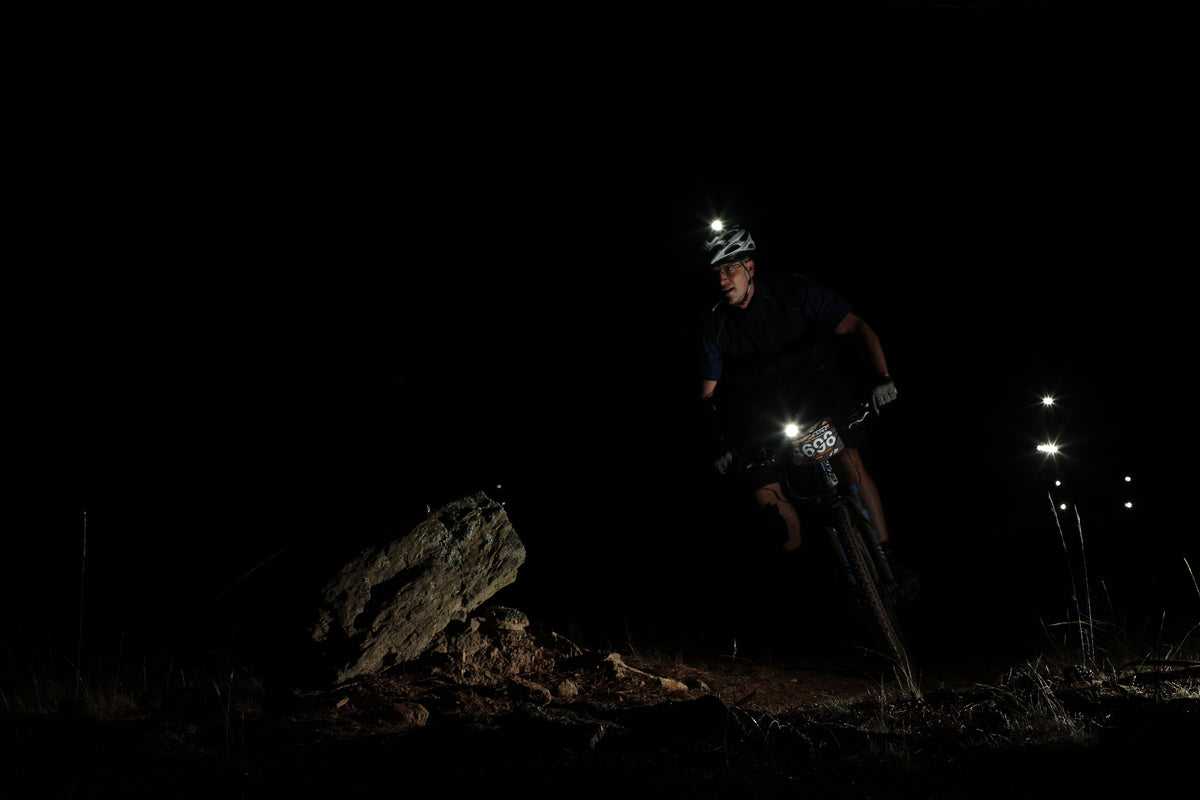 Its the middle of winter and your mid week off road excursion is looking darker, wetter and grimmer than ever before...what do you do now?
As tempting as it is to make a cup of tea, sit down with a waffle and watch Tiger King, there are now some incredible solutions that will let you get out at night on the bike and still have a great time.
At Off Road Bikes Online (ORBO), we are all bike tragics and we love night riding. If you have never done it, we recommend giving it a go - not only do you get to go for a ride, but the riding experience itself is different to riding in daylight - we feel like it brings a sense of newness and excitement to your local trails. Mountain biking, gravel, touring - even cyclocross - all have the same great experience at night.
The most important item is simple - a good set of lights.
We have tried hundreds of sets of lights from the cheapest eBay set we could find (hello 25min battery!) to the absolute premium $1,000 sets (remember those??). There is usually a clear difference in quality between high end lights and budget lights, with the improvements decreasing as the price increases beyond a certain point.
Very low end night lights suffer from poor light distribution and power, but their biggest issue is the batteries - too big, short lasting and do not last long enough. Very expensive lights usually have a low weight and great power which will allow you to ride close to your daily limits on any kind of trails. And somewhere in between there is a sweet spot - just the right amount of light and battery power. Good durability, and the price isn't too high.
If you are riding at night very rarely then you may not need a premium set as the durability and battery life compromises will be acceptable - but if you plan on riding regularly in the dark, or you really want to make sure visibility is acceptable you need to get a decent set.
This sweet spot is where we think Gloworm fits in.
The X2 is the perfect entry point with 1700 lumens, a super high quality finish and all the mounting options you could need. The XS sits in the middle with 2500 lumens, and the XSV (get it?) is the big one of the group with a whopping 3400 lumens - enough to keep you warm on a cold night.
All options have IMT (Intelligent Mode Technology), which provides the freedom to use the Gloworm light in the default settings or to completely customise for ultimate personalisation.
We often get asked - helmet or bar mount - and the answer is it depends! The video below clearly shows the difference between bar mount and helmet mount on the trail. The bar mount is pointing almost straight down to ensure you can see the difference, typically it will be pointing a little further out. Still it remains that the handlebar mount gives good visibility for the immediate surrounding whilst the headlight is looking ahead at what is coming up - this is important when speeds are high! If you can only choose one light, we would choose a helmet light as that gives the best flexibility for any style of riding - mountain, gravel, touring or cross.
Lights are the most important factor when it comes to night riding, but there are a few other factors too - keeping safe, how to ride trails, and which trails to ride. But those are for future stories!
Check out the full range here, and let us know if you have any questions!