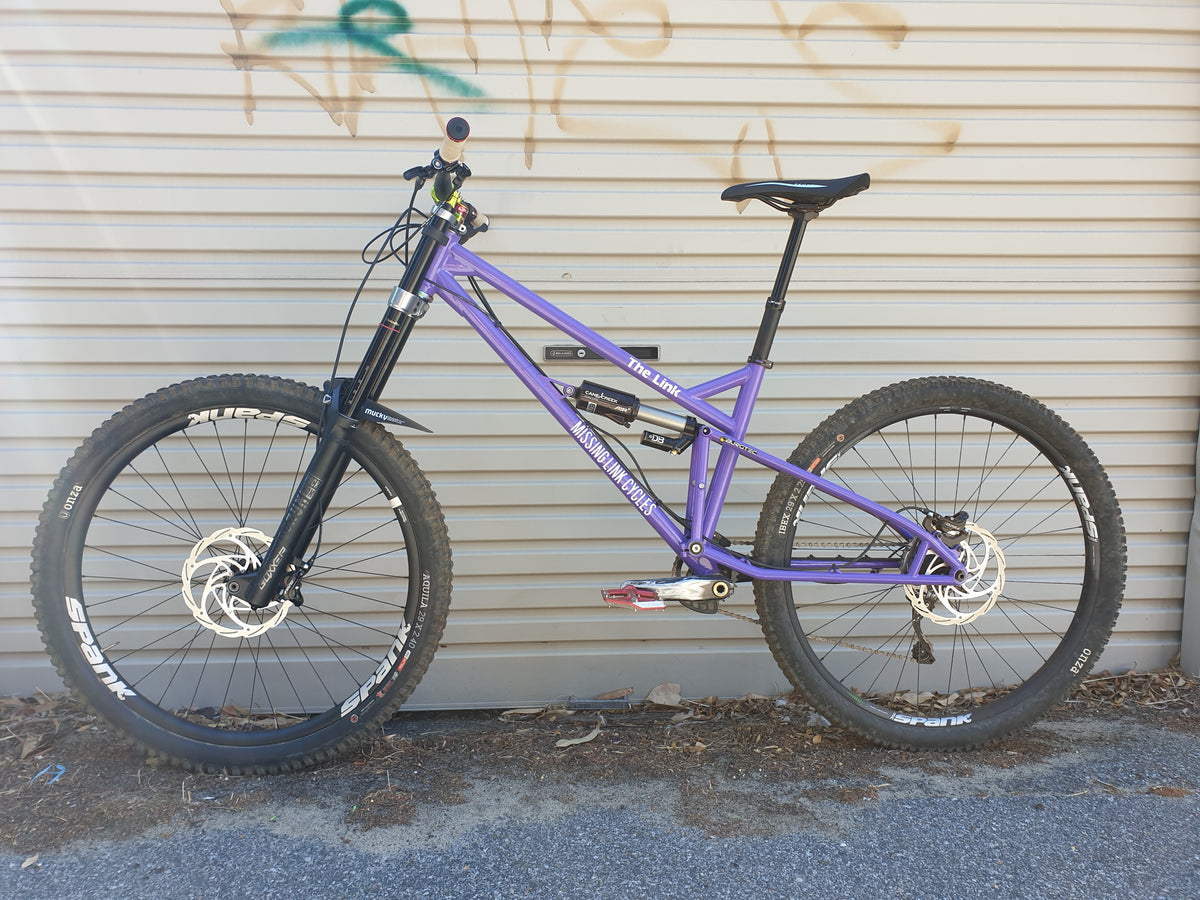 What has a 79deg seat tube angle, 63deg head angle, 1360 wheelbase, 200mm travel, a dual crown fork and a dropper post? Our prototype downduro mountain bike of course!
What started with an idea a few years ago finally came to fruition recently after finally building our first Downduro bike up - but how did it work out?
We aren't shy of trying new things, such as the Mullet Revel Rail, and in designing this frame the goal was to produce something that we could ride the roughest tracks down, but also (slowly) ride back up the hill. so think a downhill bike on the way down, and an enduro bike on the way up - Downduro isn't new, but we wanted to push the limits.
Having been riding some ultra progressive mountain bikes for a while, we appreciated that a steep seat tube angle and long chain stays were key to making this a reality. Travel had to be set at 200mm, and head angle had to be the current DH standard of 63deg to allow us to ride proper DH tracks. What about reach? Well why not go for 520mm - slightly longer than most progressive trail bikes, and longer than the longest DH bikes available. Wheel size? 29" was the choice - thanks to Greg Minnaar.
And what about compromises? Well the water bottle mounts were the main issue...so out you go. Backpacks or a strap on bottle mount like Granite Designs will be required for this. And we already had a DH shock (10.5" eye to eye) that we wanted to use to keep the cost down - so that had to fit.
Budget constraints were also significant - and what better way to reduce cost than a simple, steel single pivot? So we sent our designs to Marino Bikes in Peru, and received a reply a couple of weeks later - he didnt have tubes long enough for the downtube! "What's the longest you can do?" we asked - and that's where we ended up.
So where did we land? Wheelbase of approximately 1360mm, chainstays of 465mm, reach 515mm, HA 63deg, SA 79deg, 200mm travel. Weight? Heavy! Looks? GORGEOUS!
Built in Peru and then shipped to us late in 2019, we had grand plans to get it on the track in early 2020 and even between the tape! We all know what happened next and so our plans were shelved until early 2021, when we finally got the bike together and took it out for a spin.
Some spec highlights - Rockshox Boxxer, Formula Cura 4 brakes, Spank wheels, stem and bars, KS dropper post. Carpark test - felt nice and plush, quiet and no strange noises.
First ride report? Pedalling hard at the top of the hill, the bike felt good - plenty of traction. Over the first drop - *CLANG* - uh oh. Get off, check the bike. Reservoir on the shock has hit the frame near bottom out. Brake hose squashed, but miraculously not leaking or cut.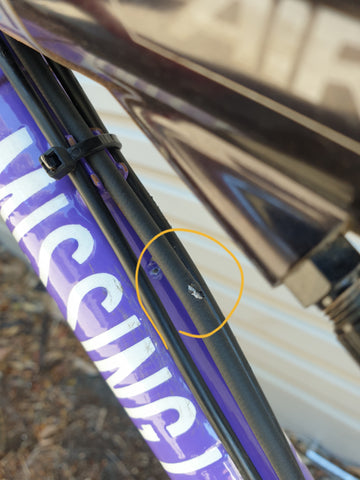 So back to the workshop for an assessment. Turns out the reservoir hits with 20mm of stroke left - so we try to switch the shock around but now the top tube hits the air can. This is easily solved with a hammer. Now the shock fits and the reservoir wont hit the frame.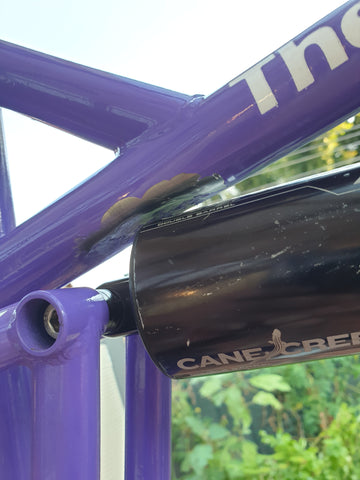 But now the tyre hits the seat tube 10mm from bottom out - argh! So we pump the pressure up another 25psi, put the Dolittle seat on and relegate the Downduro Monster so gravel and pavement until a solution is found...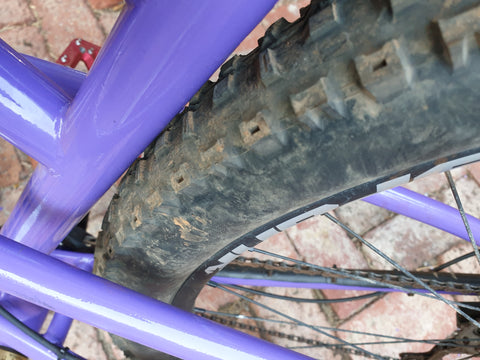 After a conversation with one of the ORBO family, we are going to explore some travel reducing spacers inside the CCDB Air - keep posted to see what happens next (assuming we can work out the size we need to get made!).
Got any comments or ideas for upgrades on the Downduro bike? Get in touch and let us know!